Sanitizer Units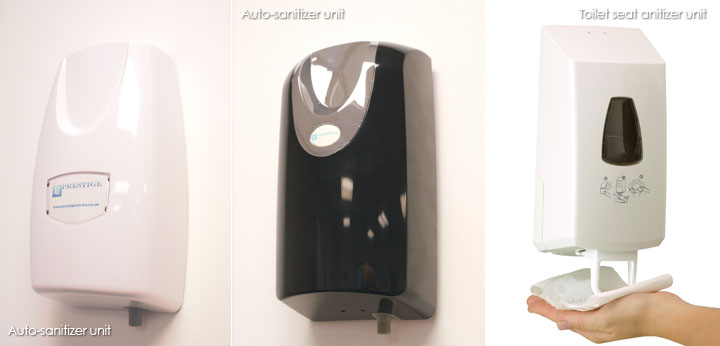 Auto Sanitizers are strongly recommended to provide twenty four hour protection for urinals and WC's in order to prevent the build-up of organic and inorganic deposits. This in turn helps reduce soiling and costly blockages, whilst helping to eliminate unwanted malodours.
The units are programmed to discharge sanitizer fluid into the toilet cisterns at set intervals, twenty four hours a day, seven days a week. This helps prevent bacterial growth and reduces the risk of cross infections.
With our Toilet Seat Sanitizers , users can dispense a small dose of sanitizing fluid onto tissue which is then wiped over the toilet seat to sanitise same before use. This eliminates harmful bacteria from the toilet seat and other washroom surfaces if required.
The solution is quick drying leaving the toilet seat ready for use immediately. This simple solution sanitation of WC's, gives a positive demonstration of commitment towards washroom hygiene to both staff and customers.
There is a wide range of finishes available to suit the décor of your washrooms, and all units are lockable.
Contact us today for more information
<< Return to our products homepage